Making of Amaya Resort (SD113)
Watch "MAKING OF SD 113 – AMAYA RESORT KOH PHANGAN"
There are a lot of reasons why most of the Tourists are in love with Thailand. It can be because of its geographical location which offers pristine beaches, lush greeneries and just naturally beautiful environment.
Siam Design Team was commissioned to do planning, design and project management of a resort called Amaya Resort.
This is 2000 sqm. boutique villa resort is located at Hin Kong, Koh Phangan, a perfect getaway "home away from home."
SD113 Completed: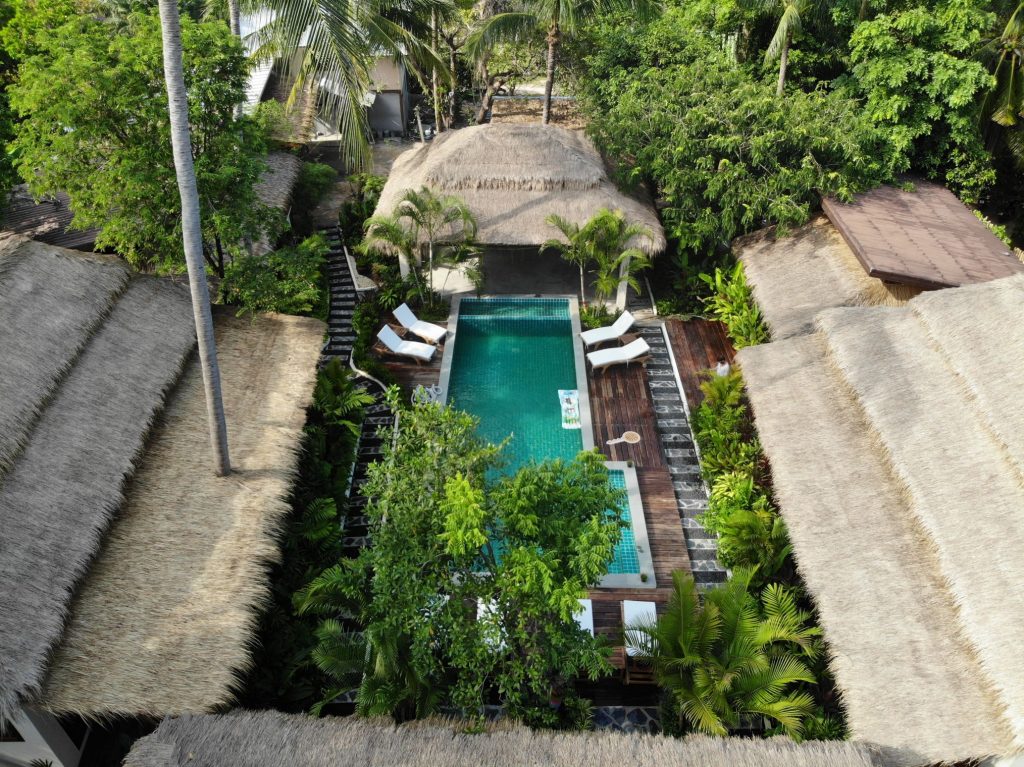 The planning took 2 months and the construction took 1 year to finish. Construction started with a pool area and yoga shala, continued with rooms, canteen with cafe / reception, and then the landscaping. It was completed last June 2021. The 50 sqm.
The swimming pool, which is made of glass tiles that mimics the crystal clear waters, is located at the center of the villa in order to have an access to every corner.
Most of the materials used during construction are indigenous and locally available

. Most of these are wood, bamboo, leaf roof, cement and metals which made it sustainable.
SD113 Render Video Tour:
This resort is sheltered by a tropical roof and high ceiling allowing ambient natural lighting and air ventilations. Wooden doors and windows were all made by a private carpenter as well as the furniture like benches, chairs and tables, and decorative materials.
The open air, multiple lush gardens and tropical vibe make this the perfect place for luxurious island living.
SD113 Plan:
Siam Design has been planning and designing dozens of projects in Koh Phangan, Koh Samui, and Koh Tao since 2017. Siam Design Thailand specializes in architectural design and a variety of solutions for projects on the tropical islands of Koh Samui, Koh Phangan, and Koh Tao. The experienced, knowledgeable staff are committed to

providing you with a personal & professional service, providing honest & correct information from the start. At Siam Design Thailand you will find a fresh portfolio of commercial and residential projects planned and designed in Thailand.